Arbour Guest House
Dunollie Road
Tel: 07770 931 967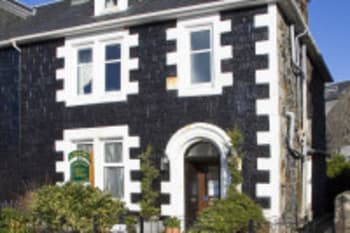 Arbour Guest House and Victoria Villa are next door to St Annes Guest House. Built in 1880 the houses retain many Victorian features, high ceilings and original cornices, with all the comforts of a modern home. Guests are given a discount on meals and a complimentary drink in Paparazzi Cafe Bar and Restaurant and O'Donnell's Irish Pub. Arbour and Victoria Guest Houses are very close to the Town Centre and many local amenities are close by. The Atlantis Leisure Centre, The Corran Halls,Tennis Courts, McCaigs Tower, the Cathedral and local Cinema are all within easy walking distance. We are also conveniently situated for buses,trains and ferries. Parking is available in the street. Pay and Display during the day, and free at night. The Guest Houses have 16 letting rooms, all comfortably furnished, with colour T.V., complimentary tea and coffee making facilities. The rooms range from Ensuite, Standard and Budget.
Availability
There are no rooms available at Arbour Guest House
for these dates.
Please try other dates or select a
different property
.
rooms
Facilities
Pets welcome
Pets are welcome, but we must be advised in advance. Not all rooms are suitable.
Breakfast Room
Early Breakfast By Arrangement
Evening Meal By Arrangement
Garden For Residents' Use
Internet Access
Packed Lunch By Arrangement
Payphones
Policies
Check In: Between 15:30 and 18:00
Check Out: Between 6:00 and 10:30
Wi-fi: Wireless internet is available and is free of charge.
Smoking: There is no smoking permitted anywhere within the property.
Parking: On street parking is available at a charge of £8.00 per day. Parking is available nearby and is free of charge.


Children: Children of all ages are welcome.
Pets: Pets are not allowed.
Groups: All groups are accepted.
Average
4.5
out of 5
53 reviews
100% recommend
Reviews
13th June 2022:

Location was fine, straight past it coming in off the main road. Easy to communicate with and booking was simple.
Tips:
Ideal for shirt commute to dozen shops, pubs, and also 2 mins from the ferry terminal if that is your chosen destination. Remember to keep the keys on you at all times when venturing out of the BnB
Would Recommend: Yes
9th June 2022:

Lovely place close to the beach, the city and the Distillery :)
Tips:
Book now!
Would Recommend: Yes
Owner Response:
Thank you for your lovely review. We really do appreciate it :)
5th May 2022:

Would Recommend: Yes
22nd March 2022:

Very clean, beds were nicely made up. Check in was very easy despite our late arrival
Would Recommend: Yes
Owner Response:
Thank you for your lovely review.. W appreciate it. :)
14th February 2022:

Stayed for two nights and had the continental breakfast. Had the best sleep and beds were very comfortable. Great location and central for everything. Looking forward to returning
Tips:
Great location and sea view from our room. Highly recommend
Would Recommend: Yes
29th October 2021:

Would Recommend: Yes
14th October 2021:

Stayed a couple of times now and have absolutely no complaints. The guest house doesn't set the world on fire but it certainly provides everything required. Will definitely choose to stay there again if I'm in Oban.
Would Recommend: Yes
4th October 2021:

ver helpful in organising key for our late arrival. Room was very clean and comfortable.
Would Recommend: Yes
20th September 2021:

Wry quite and the room was clean
Tips:
Oban is a nice place Lot to do And nice restaurant too
Would Recommend: Yes
Owner Response:
Thank you for your lovely review. we appreciate it :)
16th September 2021:

Would Recommend: Yes
3rd September 2021:

Would Recommend: Yes
Owner Response:
Thank you for your review :)
3rd September 2021:

Very pleasant stay at Arbour, exactly what I required. No frills accommodation at a budget price. A comfy bed and everything clean. No complaints about anything. Hopefully I'll be using it again soon.
Tips:
Ideal location, only 5 mins from town centre and plenty parking nearby.
Would Recommend: Yes
18th August 2021:

Would Recommend: Yes
Owner Response:
Thank you for your review 😊
19th July 2021:

Great location. Friendly staff. Breakfast great under Covid restrictions. Great value.
Tips:
Parking on street free after 6pm
Would Recommend: Yes
28th July 2019:

Great to be able to bring dog: pretty comfy and very convenient. Thanks
Tips:
The Old Potting Shed is a dog friendly cafe which was lovely.
Would Recommend: Yes
26th July 2019:

Would Recommend: Yes
16th September 2018:

Very friendly welcome. Room small but good value for money. You just have to be a little patient for the central heating and shower to kick in but all works perfectly well
Tips:
Lots of variety in local food to eat. Pop over to Kerrera to see a little something different on Highland Island life. Calmac Ferry leaves from Gallanach Road. There is another ferry advertised from the centre of Oban which I presume is more expensive.
Would Recommend: Yes
7th September 2018:

Very kind staff, beautiful and clean rooms and bathrooms just a step away from the port.
Tips:
Less than 5 minutes walk from the main restaurants, the harbor and Oban Distillery.
Would Recommend: Yes
25th June 2018:

On Wednesday night we discovered the door doesn't lock to our room. When we pull is closed and it clicks but you can still just push it open. We loved the room, view and it was clean. The only other small think was the TV picture wasn't the best or the signal wasn't very good when you went above Channel 5. We will definitely book this room again. However we hope the lock will be fixed. We didn't see any staff members on Wednesday night or Thursday morning before we left to say to them about it.
Would Recommend: Yes
25th June 2018:

Great value for the money. Decent room for a short stay and shared bath was clean and close to the room. Great location for exploring Oban.
Tips:
Oban distillery is great and plenty of seafood restaurant options.
Would Recommend: Yes
2nd June 2018:

We thoroughly enjoyed our stay. Our accommodations were private and spacious, and the shared bathroom was centrally located and clean. We would recommend the staff replenish the toilet paper at least once daily because we had to go get our own when it ran out. We never could find a staff person to ask about it. Also, the sheets come loose on the beds as you're sleeping so there might be a different way of making the beds to keep those secure. All in all, a very pleasant stay... thank you!
Would Recommend: Yes
26th May 2018:

Would Recommend: Yes
8th May 2018:

Would Recommend: Yes
21st August 2017:

Would Recommend: Yes
15th August 2017:

Would Recommend: Yes
11th August 2017:

Very nice Place! Good staff. Richard and Liz. I recommend you if you have a period in tobermory
Would Recommend: Yes
2nd August 2017:

The accommodation is fairly basic but at £30 a night you aren't going to get anything better particularly at this time of year there are places charging 3 times the amount. The TV could only pick up BBC channels clearly but I was only there one night. I had a problem with the booking when I was uncertain about where it was taken and the reply was a bit short on the phone but otherwise no problems. Breakfast is extra but there are cheaper options at the Corryvreckan half the price or on a steamer. If you are going to Craignure try to go on the Isle of Mull as the cuisine is limited on Coruisk A good place if you are catching a ferry the next day or joining s sailing boat
Tips:
Places to visit. The War and Peace Museum, McCaigs Tower and Pulpit Hill for views of the Bay. The trail to Dunolie Castle past Fingals Dogstone. The Island of Kerrara either by water taxi from the North Pier or the ferry from Gallanach well worth a visit
Would Recommend: Yes
9th June 2017:

Great location and value for money. Clean room and good to have tea and coffee making facilities. Lovely staff - very helpful. Shower somewhat ramshackle, and TV didn't work (?reception ?aerial)
Tips:
Come to Oban Live!
Would Recommend: Yes
6th June 2017:

Friendly staff. Good central location. Low cost rooms. Really good breakfast.
Tips:
George Street fish restaurant is amazing! Easily one of the top 2 fish suppers I've had in my life. Avoid Little Bay Cafe. Little effort goes into food served and pricey for what you're getting.
Would Recommend: Yes
3rd November 2016:

I appreciated being able to find a room that was simple and affordable, clean and comfortable without being over the top. I personally don't even feel the need to have TV etc, so cheap accommodation without the frills suits me just fine.
Tips:
Fish and chip restaurant down the road was very good.
Would Recommend: Yes
Owner Response:
Thank you for liking your stay with us. We appreciate your comments. Arbour
11th August 2016:

Confortable beds
Would Recommend: Yes
31st July 2016:

Would Recommend: Yes
27th June 2016:

The travellers would have to be able to go up narrow stairs and be alright with going down from the attic to take a shower. Also, most of the people in my family are around or over 6 feet tall, so the attic is not the best for them. It would have been nice to have more water pressure when taking a shower.
Would Recommend: Yes
Owner Response:
Dear Guest, Thank you for giving us a good review. Our house is Victorian, so narrow stairs and attic rooms are a normal feature. You could have requested a ground floor room and we would have been happy to oblige if one was available. Thnk you Arbour Guest House
2nd June 2016:

A really cosy house just near to Oban centre. Worth the price. I'd gladly recommend it to other visitors!
Would Recommend: Yes
26th August 2015:

The guesthouse and our room where lovely. Nice and clean and comfy. The only issue I had was with breakfast, there was a limited supply of what was classed as " continental" and the staff member asked if we wanted the Scottish breakfast which we did but I then would have expected for her to return to ask what exactly we wanted but instead she just returned with breakfast with everything on it. Half of the breakfast I didn't want I would have preferred to be asked what I would like rather than just landed with a breakfast that I didn't eat most of but what I did have was nice.
Would Recommend: Yes
23rd June 2015:

Very pleasant and helpful staff
Tips:
Very handy
Would Recommend: Yes
1st June 2015:

Would Recommend: Yes
26th May 2015:

Excellent location, clean rooms and friendly staff. Only the room was a little bit cold as the heater wasn't on.
Tips:
Great restaurant: EE'USK. Visit Iona.
Would Recommend: Yes
24th August 2014:

Good location
Tips:
Use the long stay carpark before you get into town as it's free after 6pm! Visit Norries chip shop absolutely yummy!
Would Recommend: Yes
24th August 2014:

Would Recommend: Yes
30th June 2014:

Had a great stay, only issue was that the internet did not work.
Tips:
Anything seafood. Making the trip to Kererra Island to see the castle.
Would Recommend: Yes
1st June 2014:

U know what I highly recommendation the arbour oban greater Scottish guest house hotel complex yes a massive great big respectos to arbour gh the female staff was lovely personalitys very very very helpfull supportive kind with cares friendships the lot ok tops of the world to arbour gh complex s long live the greater Scottish Scotland uk/gb to land grace's loves of lands a great respectos to humans kindness's ok DET
Tips:
Just keep going forward loves lives it will love you back smiles every other will smiles including the sun ok as the great Scottish isles just relax with tranquills full of natures full of certain wonderfull humans peoples as my experiences I had found the islands human peoples lovely friendly humans aprt for a few I had over certain enquiry stays from first to finish funny enough but all other certain places I stop was wonderbars yes enjoyed the 2 weeks it was fun on the great Scottish isles lots to learn explores etc ok a big massive respectos with a tops of the world ok DET
Would Recommend: Yes
13th September 2013:

Very glad to find a reasonnably priced single room for an overnight stopover. Small room, but perfectly adequate for my needs.
Would Recommend: Yes
22nd August 2013:

Friendly, excelent breakfust
Would Recommend: Yes
17th June 2013:

Would Recommend: Yes
12th April 2013:

An excellent stay indeed....
Would Recommend: Yes
15th March 2013:

Bes amazing but room.chilly although heating was on. I stayed in room 1
Would Recommend: Yes
24th August 2012:

There was a problem with my online booking, but it was handled really well, even got a room upgrade!
Would Recommend: Yes
11th June 2012:

Basic rooms, but very clean and comfortable, which is precisely as expected from a 2 star guest house.Great price. No frills, and no fuss. After check in we were left to our own devices, which we prefer. We didnt take breakfast in the morning as we had to leave early for the ferry.
Tips:
Very convenient for shops, bars and restaurants. Thoroughly enjoyed our free drink in O'Donnell's, just round the corner.
Would Recommend: Yes
10th June 2012:

Roomdoors make a lot of noise, specially if people don't take care and use the bathroom a lot, both late at night and very early in the morning, my neighbours left at 6.15!(with children etc.).
Tips:
Remember to bring earplugs.....
Would Recommend: Yes
29th May 2012:

i thoroughly enjoyed my 3 night stay. what i liked about it was that nobody bothered you,you were just left to please yourself and the facilities were kept spotless. i am not sure yet but i would like to stay the last friday and saturday nights of the next few months, would i get the same room or similar for £25 hoping to hear from you
Tips:
i spent a lovely day over in Mull with a bus meeting the ferry to take you to various places. I went to Tobermory and had a couple of hours sightseeing before getting the bus back to the ferry. I also recommend abus trip to Seil Island the scenery is fantastic
Would Recommend: Yes
26th April 2012:

Pleasant stay whilst working in Oban
Would Recommend: Yes
23rd March 2012:

1. Non-emergency contact information needed. 2. The booking date on screen somehow changed before confirmation - grateful for it being sored out on arrival. Never previously had this problem with any hotel etc booking, so think the date changed on the system and not that I put in wrong information. 3. Full cooked breakfast off premises much cheaper than continental premises on premises!
Tips:
Handy for ferries, restraurants and the Oban distillery By small room expect one the size of a train sleeper compartment - but ok for 1 night.
Would Recommend: Yes
.