Arinagour Motorhomes
c/o An Cridhe Community Centre
Tel: 01879230000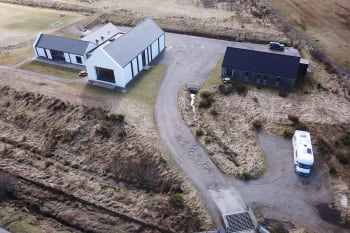 Up to 3 motorhomes can park in a designated area in the grounds of An Cridhe, but please note this is not a campsite. It provides a facility in response to motorhome customers with pets (who are unable to stay at the campsite on Coll) or for customers who would like a meal out with a drink and want to be parked nearby. The site is centrally located in Coll's only village next to the main road, although it is a quiet, single-track road. Coll's community centre is within the same grounds and has public toilets and coin-operated showers with 24 hour access. You may also use the WiFi in the community centre (open 9-9) for free. Hook ups can be booked as an extra, and there are no chemical waste disposal facilities on the island. There is a public laundry at the far end of Coll Bunkhouse which is also accessible 24 hours. Please note that motorhome customers do not have access to Coll Bunkhouse;.
Facilities
Public toilet & showers onsite at community centre
Free wifi available onsite in community centre
Indoor area (disabled access) at community centre
NO chemical disposal on Coll
NO accompanying tents/awnings
Not suitable for large motorhomes
Hook Up: extra £3/night
Café / Restaurant (nearby)
Laundry And Dry Clean (Charge)
Policies
Check In: Between 10:00 and 11:00
Check Out: Between 10:00 and 10:00
Wi-fi: There is no wireless internet available.
Smoking: There is no smoking permitted anywhere within the property.
Parking: There is no on street parking available. There is no other nearby parking available.


Children: Children of all ages are welcome.
Pets: Pets are allowed and can stay free of charge.
Groups: All groups are accepted.
Average
4.7
out of 5
34 reviews
94% recommend
Reviews
18th September 2020:

The community centre was spotless but campervans were in a neglected and waterlogged corner with no view Couldn't use my hairdryer due to Covid but others were using gym equipment which would be far higher risk of shedding virus We left a day early as did the other van on site
Tips:
Coll hotel is lovely
Would Recommend: No
Owner Response:
Thank you for taking the time to leave a review. We're sorry you did not find the site to your liking, although we feel that the images on our website adequately reflect both the positioning/nature of the site. We had intended to fully level the site this year but that has had to be postponed with the goings on of 2020. The site offers practical solutions for many travellers - accepts dogs, close to amenities - and that is why we started accepting motorhomes, at their request, a few years ago now, but it is not a campsite, nor is it intended to be. Covid regulations in Scotland allowed gyms to reopen this month. It is an important service in the community, and has been reopened carefully and following all Covid restrictions. We do not have hair drying facilities in An Cridhe. This is not a request that has been made of us before by motorhome customers, but something we could consider.
10th September 2020:

Would Recommend: Yes
5th September 2020:

Very pleasant and welcoming staff. Surpassed our expectations, thank you.
Tips:
Must book a seafood meal at the Coll Hotel, amazing quality and price
Would Recommend: Yes
29th August 2020:

Site was fantastic, close to toilets, showers and kitchen. Water isn't available onsite, but you could access from the main pier which wasn't too far away. If they could install electrical hook up and had somewhere for toilet disposal it would be perfect. Also close to Coll hotel, great food
Tips:
Book a table in the Coll hotel before you go Great place to chill out, and the beaches are great to explore
Would Recommend: Yes
Owner Response:
Thank you for taking the time to review. Our customers have access to water at the laundry or outside tap (need to see staff for key). I apologise if this was not explained to you when you checked in. It should also be mentioned in the pre-arrival message we send out.
27th August 2020:

It's a sheltered hollow , so was very midge, the top area near the buildings might be abetted location?
Would Recommend: Yes
Owner Response:
Thank you for leaving a review. We can assure you that on the rare occasion the midgies are bad (and this summer has been unusually lacking in a breeze), the other locations within our grounds suffer just the same. We aren't allowed to have overnight parking at the rear of the community centre.
24th August 2020:

Obviously site is not flat, some warning when booking would have been nice. Didn't worry us as we have ramps but may upset others.
Tips:
VERY midgey if wind drops. Worst I've ever seen in 30+ years of visiting Scotland and Isles. Coll hotel food was sublime. Shop in village has a great selection of food.
Would Recommend: Yes
Owner Response:
Thank you for taking the time to leave a review. It has certainly been an unusually good summer, but that also brings midgies as the gentle breeze we'd normally expect (as a minimum) hasn't been so prevalent.
10th August 2020:

I have put only a 4 in the facilities box because you do not have a disposal for toilet waste. Could toilet waste be put in your sewar system if you insisted that campers use a Green fluid ? I understand about sewage plants as I had to look after one at a nursing home, where staff insisted pouring lots of bleach down the toilets. We are very pleased otherwise including all you have done for Covid. One other thing, not your problem really but we noticed quite a few cars driving across the machair at the RSPB just to gain access to the beach. There are signs up but people to lazy to walk !
Would Recommend: Yes
Owner Response:
Thank you for taking the time to leave a review. It was lovely to meet you. Unfortunately Coll's campsite has been unable to open this year; it does have a waste disposal facility that 'non-residents' can pay to use.
7th August 2020:

Very helpful staff. The facilities were spotless. Can't fault anything. Would recommend the facility to other travellers. EHU would be a bonus to enable to charge batteries etc. Perhaps it's something that's offered but due to Covid restrictions wasn't available. The Saturday market was good too. And with the changeable weather the tumble drier was a huge help.
Tips:
Great spot and handy for the ferry and the Coll hotel for meals and drinks. It's central in the island and I found it to be a good base to explore from. I would definitely return as I didn't get to see everything. Liked the Saturday market too, was good to pop in and pick up some local goods.
Would Recommend: Yes
1st August 2020:

The site has degraded a little from last year. It is quite overgrown which reduces space. It is also quite tight to park side by side and the bottom area is uneven and prone to having surface water when wet. The sight provides a great place to legally stay in a campervan and access the facilities and village and see the beautiful island of Coll. It is ideally suited to smaller campervans as the larger motorhomes fill the space. An small improvement could be to place a bit more hardcore at the bottom of the area to make it a bit more level and improve drainage, so the second van would also have a good place to park up as well. We had a great stay and really appreciate the opportunity to stay at site to enjoy Coll. It is a great facility and we hope to return soon. Best regards Doug and Claire.
Tips:
Coll a Hotel had fantastic food and atmosphere.
Would Recommend: Yes
Owner Response:
Thank you for taking the time to review. We had hoped to fully level the site this year prior to opening but lockdown got in the way and as a charity we sill have to be careful how we allocate funds while we have very restricted income. But please be aware it is something we are keen to do. We noticed an excess of water running down the hill towards the cattle grid and our ground and had an independent visual inspection done of this but no problem was found. We will keep an eye on it.
3rd October 2019:

Such a lovely welcome. I wasn't sure about what the facilities would be like before we arrived at the community centre but they were excellent. Clean toilets and showers and the use of the lovely centre itself.
Tips:
You can hire bikes and there's a dog friendly hotel within minutes of the community centre
Would Recommend: No
19th September 2019:

Great location and facilities at the centre with friendly and helpful staff. Very close to village amenities.
Would Recommend: Yes
18th September 2019:

Excellent set up for Campervans in the heart of a lovely community and amazing Island
Tips:
Coll Hotel
Would Recommend: Yes
13th September 2019:

Lovely spot on a beautiful island. Superb facilities.
Would Recommend: Yes
12th September 2019:

Would Recommend: Yes
12th August 2019:

So friendly and helpful staff and such a great community centre. Site for vans is pretty basic and not level but we did not mind. Not so nice to sit outside but rest of the island is so beautiful!
Tips:
The food and welcome at the Coll hotel was fantastic!
Would Recommend: Yes
Owner Response:
Thank you for taking the time to leave a review. We have plans to level the site once the season is over but, for the meantime, customers are welcome to borrow our Fiamma levellers if they need them.
11th August 2019:

Would Recommend: Yes
Owner Response:
Thank you for taking the time to leave a review. Our other customers may find it useful to know that this review is for the motorhome pitches provided on our ground, and not for Coll Bunkhouse itself.
9th August 2019:

If staying overnight before getting the ferry or eating at the Coll Hotel or attending a course at An Cridhe, community Centre, it's very convenient, with access to the fantastic community centre in the day, WiFi & the toilet/showers. There are plans to level the site, which will eradicate the slope and the flooding at the bottom level area. It has a stopover/car park feel. At current prices plus cost of showers, for a family, it's the cost equivalent of a serviced campsite on the mainland. There are no facilities for disposal of grey or toilet waste. The Garden House Campsite allows disposal for a fee. Water is obtained at the middle pier.
Tips:
Coll is a really friendly, relaxed, safe place especially for single travellers. The beaches are secluded and quiet. Wildlife everywhere. There is a vibrant, enthusiastic community spirit & a lot of activities. Coll Hotel food is wonderful. Views from dining room & the gardens are lovely. Very busy and service can be slow but staff very friendly. Cafe restaurant is great too. Shops locally. Can hire bikes (electric bikes would be great!), kayaks/ SUP/sailing sessions. Look out on clear nights for stars & Milky Way. Birds & butterflies everywhere. Cycling distance to nearest beaches at Cliad & Hogh. Need car for others unless keen cyclist, it's hilly.
Would Recommend: Yes
Owner Response:
Thank you for taking the time to leave a review for our motorhome spot (which is separate from Coll Bunkhouse). We're delighted that you had a great time on Coll. As you rightly point out, the motorhome spots are convenient for the local facilities and the site, which only started last year, came about by popular request for that very reason. You have already noted that there are more scenic spots on the island, and we'd encourage all our customers to explore beyond the village.
22nd July 2019:

Great wee site, staff super friendly and helpful, will def return
Tips:
Hotel lovely, check out Tiree Sea Tours, beaches amazing locals friendly
Would Recommend: Yes
Owner Response:
Thank you for taking the time to review your stay with us. We're glad you came across Tiree Sea Tours, our friends on Tiree, and hope other visitors may find it useful to know there is a choice of boat trips as, here on Coll, we have Isle Go.
12th July 2019:

Tips:
Coll Hotel Kip Post Office - Fiona
Would Recommend: Yes
10th July 2019:

Would Recommend: Yes
8th July 2019:

Would Recommend: Yes
1st July 2019:

Would Recommend: Yes
30th June 2019:

lovely community facility
Would Recommend: Yes
23rd June 2019:

Tips:
coll hotel worth a visit
Would Recommend: Yes
22nd June 2019:

The only reason facilities have been marked down is having stayed in Motorhome it would be much improved with electric hookup, water fill up and waste disposal points though I fully appreciate reasons for not being available given location. The availability of facilities within the community centre and bunkhouse are excellent and would score a 5. The lady who booked us in was very pleasant and helpful. Thank you we enjoyed our stay and the island.
Would Recommend: Yes
21st June 2019:

Excellent facilities and such friendly staff. Well located for hotel and village. One suggestion, could do with a stool in the shower.
Would Recommend: Yes
Owner Response:
Thank you for taking the time to review your stay. We're glad you had an enjoyable time. Your comment about a stool is noted. The accessible shower room does have a chair in it (fixed to the wall) and customers are welcome to use it when it is not in demand by customers with accessibility issues.
21st June 2019:

Great location and first class facilities. Will definitely use you again.
Tips:
The Coll hotel was excellent for food and a drink at the bar with some locals.
Would Recommend: Yes
14th June 2019:

The site for motor homes would be improved if it was levelled and drainage improved. Otherwise a very pleasant stay, with excellent facilities close at hand.
Tips:
Close to the village amenities, pub, shop, cafe.
Would Recommend: Yes
Owner Response:
Thank you for taking the time to leave a review. We're delighted you had a good stay. You may be interested to know that we have already received quotes for levelling the ground but won't be able to do that work until after the season now. We do have a set of Fiamma levellers available for customers to borrow.
27th May 2019:

Fantastic facilities and excellent value. Staff were very helpful and we were pleased to be able to add a third night after someone else's cancellation.
Tips:
Excellent breakfast in the cafe. Shops had all we needed. Beaches mostly demand a good hike...make sure you go to Cliad Bay to see the seals hauled out on the island when the tide is out.
Would Recommend: Yes
26th May 2019:

A warm and very friendly welcome awaited us. Lots of advice for adventures.
Tips:
Embrace and enjoy everything Coll has to offer. It's a peaceful island with welcoming residents, an abundance of natural delights and wildlife.
Would Recommend: Yes
17th May 2019:

Great location as we didn't really want to drive our m/home on narrow roads but use our bikes instead so this was a perfect base for us. Access to beautifully clean toilets, showers and internet was fantastic. Your staff were very friendly and helpful with excellent communication throughout booking process. Aringour motorhomes is a brilliant model for other small islands.
Tips:
Our seafood dinner at the newly-refurbished Coll Hotel was excellent. Lots of useful info on the island from the Community Centre
Would Recommend: Yes
2nd May 2019:

Staff very helpful and approachable
Tips:
Beaches are a must see
Would Recommend: Yes
11th April 2019:

Wifi/Broadband very intermittent which needs to be improved. As I left the island I noticed a BT and an Openreach van arriving so hopefully they'll resolve the problem. My biggest gripe is a 3 minute shower for £1, it's just not long enough. A 4 minute shower would be just acceptable. I had £2, 6 minute shower on my last day which felt like a luxury!! :) Parking spot needs leveling and was being tidied as I left.
Would Recommend: Yes
Owner Response:
Thank you for taking the time to write a review. We're delighted you had a good time on Coll. As you may have heard from staff during your stay, we have requested quotes for levelling the car park although we do, in the interim, have Fiamma levellers available for customers to borrow (deposit required). Broadband can be intermittent on the island and we, like many, have never been able to get to the bottom of it. However, our community owns a 4G mobile mast which gives an excellent signal for Vodafone and EE on much of the island. Whilst this is not the same as free wifi for customers, it does allow many to stay connected.
7th April 2019:

Fantastic community resource where staff genuinely make all visitors welcome
Tips:
You have to eat in the Coll hotel.... the post office Tes.co and the cafe are fantastic too...the beaches are amazing if you walk from the rspb car park and you must climb to the highest point!!!
Would Recommend: Yes
.